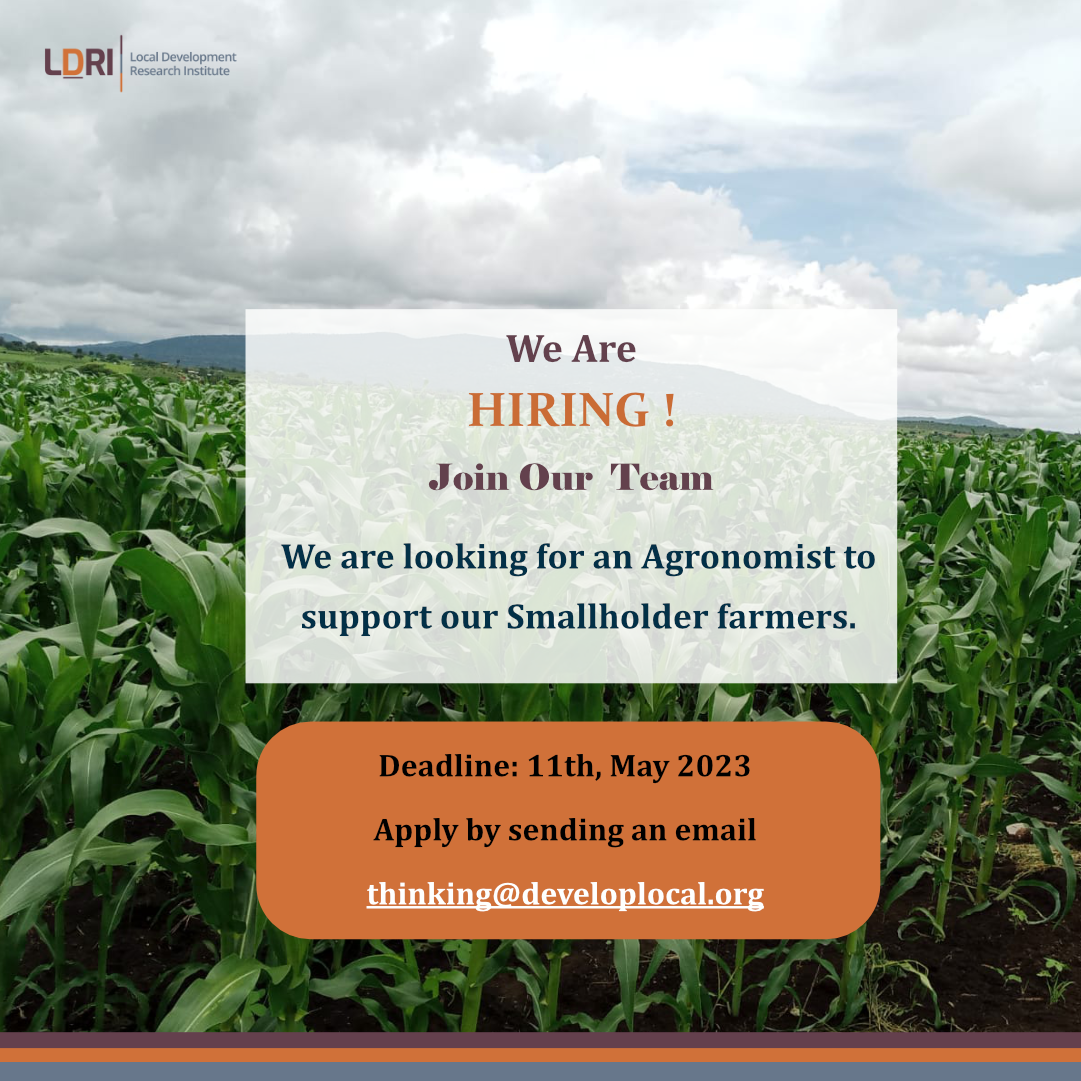 The Local Development Research Institute is an action-oriented think tank that supports the efforts of African countries to take practical, evidence-informed actions to address hunger, poverty, and inequality.
We are currently seeking an agronomist to provide technical assistance to smallholder farmers, establish rapport, provide agronomic advice, and collect and evaluate data to improve offerings. The aim is to empower smallholder farmers and enhance their livelihoods by mitigating their risks and making them more attractive to financial institutions using digital resources and new technologies. This position is critical to facilitating more effective and reliable interactions and transactions between smallholder farmers and LDRI networks.
The role and responsibilities 
Establish and maintain productive relationships with smallholder farmers and LDRI networks by creating a sense of confidence and reliability with them and serving as the primary point of contact for technical support.

Conduct field visits to farms and provide agronomic recommendations, such as guidance on crop management practices, soil fertility, pest and disease control, and irrigation techniques.

Promote and market LDRI products and services, such as inputs, mechanization services, and extension services, to farmers.

Provide instruction and capacity building to farmers. 

Gather and evaluate data on farming practices, input usage, and yield results to guide the development of new products and services and enhance current offerings.

Stay informed on the most recent agronomic research and trends in the agricultural sector to provide the best possible assistance to farmers and LDRI networks.
Perform other duties as assigned.
Qualifications, knowledge, and skills
Bachelor's degree in a relevant field (e.g. agriculture, agronomy, horticulture )

Proficiency in crop cultivation, pest, and disease control, soil science, and plant nutrition. 

Familiar with current advancements in agricultural technology and the ability to comprehend and manipulate data. Self-motivation and a proactive approach.
Application
Please send your CV and cover letter, quoting the job title on the email subject (Agronomist), to thinking@developlocal.org before 11th May 2023.