Welcome to the Africa Open Data Network (AODN) monthly resource list for AUGUST 2021. Every month we put together content including a reading list, avenues for capacity building, and events from different stakeholders across the globe on the use of data for equal and sustainable development.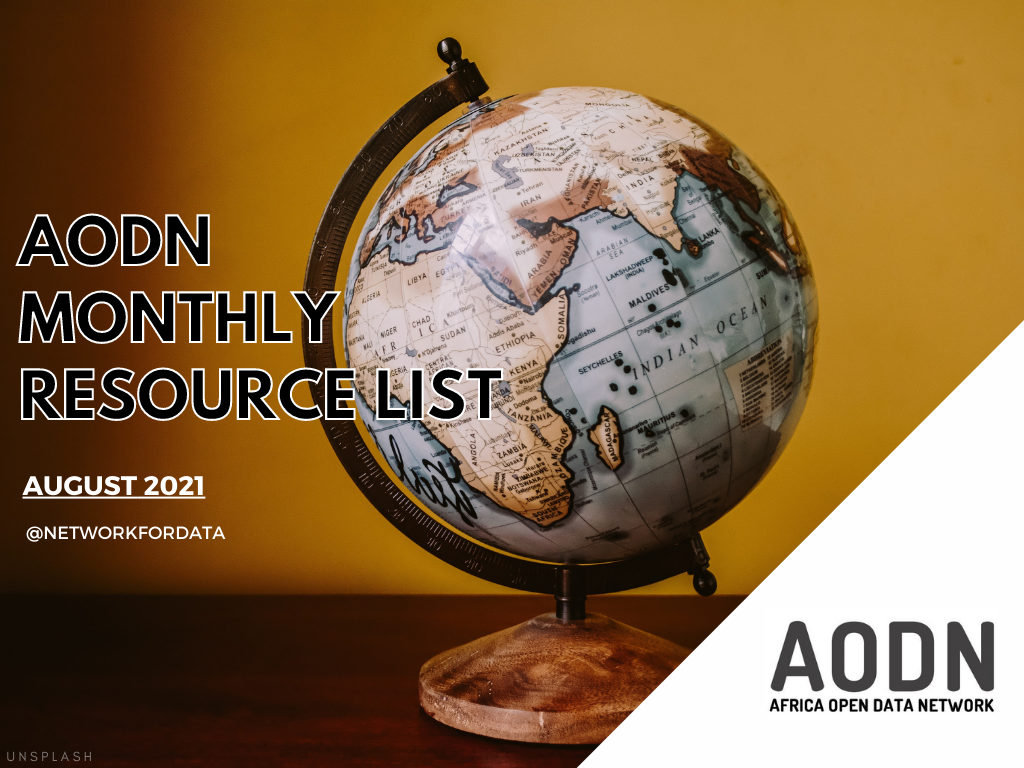 Reading List
With just a few years left to achieve the First Ten-Year Implementation Plan (2014-2023) of the African Union's Agenda 2063 and the 2030 Agenda and its Sustainable Development Goals (SDGs), data is needed and evidence to drive Africa's development agenda. This blog shares some key highlights of our webinar on the Utility of the Global Data Barometer(GDB) for Sub-Saharan Africa exploring the GDB and what it means for different actors in Sub-Saharan Africa. Read more
The challenges societies face today, from inequality to climate change to systemic racism, cannot be solved with yesterday's toolkit. Solving Public Problems shows how readers can take advantage of digital technology, data, and the collective wisdom of our communities to design and deliver powerful solutions to contemporary problems.
Offering a radical rethinking of the role of the public servant and the skills of the public workforce, this book is about the vast gap between failing public institutions and the huge number of public entrepreneurs doing extraordinary things-and how to close that gap.
This inception report focuses on the emerging trends in Africa's digital and data environment. The study builds a case for mobilizing action at both regional and national levels, to strengthen data governance frameworks in Africa, particularly in view of the ongoing regional economic integration initiatives under the African Continental Free Trade Area (AfCFTA). Read more
The challenges female smallholders face, from access to technology to informal participation in value chains, have been exacerbated by Covid, risking widening the gender gap. In agricultural value chains, agribusinesses and cooperatives have seen their businesses disrupted by measures to contain the spread of the virus. Agritech companies are also facing tough operational challenges and a more complicated environment to raise financing. Digital agriculture tools have, however, enabled smallholder farmers to continue receiving advisory, acquire much-needed financing, receive inputs and identify new markets for their products. Read more
The Gender Data Network (GDN) has proven useful for its members by strengthening their credibility and confidence through valuable conversations and knowledge sharing. For some, the GDN has provided exposure to new tools and best practices. For others, it has given them the support they needed to push gender issues forward in their organization. All members have benefitted from a strong, shared sense of community that functions as a primary source of information on new developments in gender data and statistics. Read more
To maximize the potential impact and acceptability of EIDM capacity building, there is a need for programmes to coordinate their remits within existing systems, playing both 'insider' and 'outsider' roles. Through a review of the South African evidence-policy landscape and analysis of a stakeholder event that brought together EIDM role players, this paper illustrates how one capacity-building programme navigated its position within the national evidence-policy interface. It identifies strategies for improving the acceptability and potential effectiveness of donor-funded EIDM capacity-building activities: understanding the evidence-policy interface, incorporating programmes into the decision-making infrastructure (being an 'insider'), whilst retaining an element of neutrality (being an 'outsider'). Read more.
In practice, local governments use data, beliefs, traditional knowledge, opinions, and central government policy directives. In order to acquire evidence, local authorities turn to civil society organizations, hospitals, the National Institute of Statistics and Economic Analysis, and technical and financial partners, and rarely to the research community, even though researchers are theoretically known as the traditional source of evidence.
This study recommends capacity building for the various stakeholders, brokering between evidence producers and users, and institutionalizing evidence use. Read more.
Webinars /Events
De-Colonizing Data & Tech For Good – 25th August 2021
Overarching lessons from the Evidence Leaders in Africa (ELA) initiative: Empowering African researchers to play a central role in promoting and facilitating evidence use in development efforts in Africa– 26 August 2021
Afrobarometer regional SDG Scorecards webinar – Southern Africa– 31st August 2021
Uganda Social Media Conference 2021– 25-26 August 2021
Hack-and-Learn summer 2021– 23rd August -9th September 2021
Africa Evidence Week 2021– 13th -17th September 2021
The Public Sector Data Conference 14-23 September 2021
8th Global Forum on Gender Statistics– 30th September- 1st November 2021
Un World Data Forum 2021- Bern, Switzerland– 3rd – 6th October 2021: Registration To Attend In-person Is Open
Global Development Conference 2021 | Evidence for Development – 18-27 October 2021
Available Training/tools
Data for Better Lives: A New Social Contract (World Bank Open Learning Campus)Africa Data Science Intensive (DSI) Program 2021 for young Africa Student (Fully funded workshop in Capetown, SA)