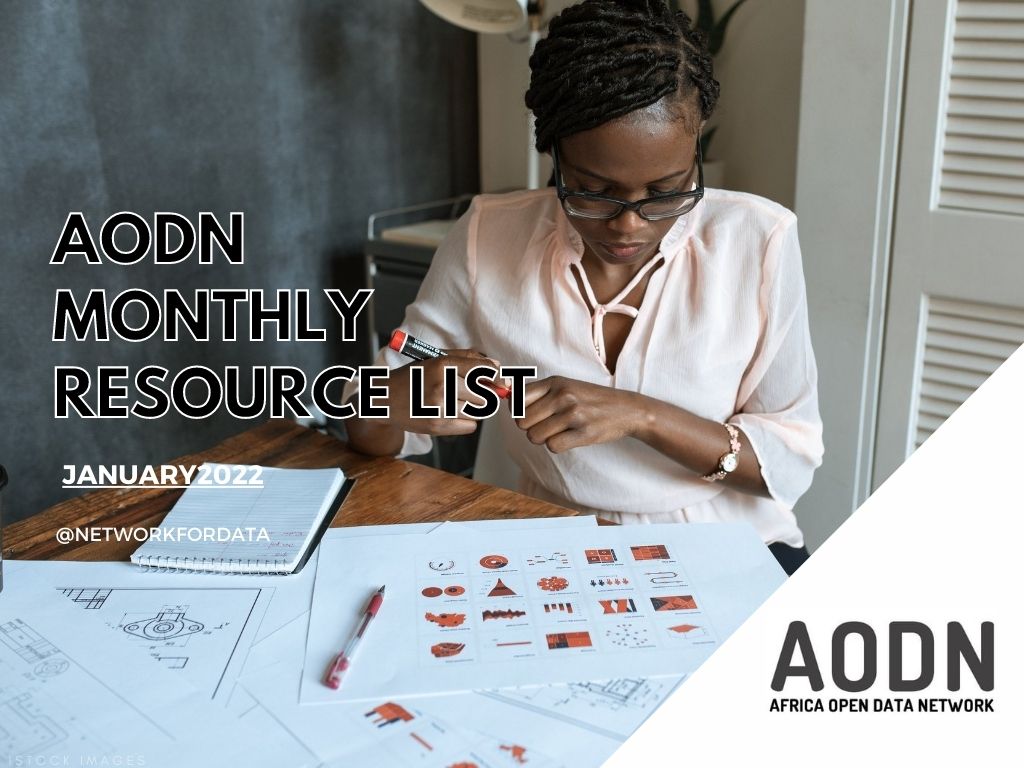 The monthly resource list for January 2022 puts together content including a reading list, avenues for capacity building, and events from different stakeholders across the globe on the use of (open)data and for better service delivery in sectors such as Agriculture, Education, and Health.
What AODN is reading this Month
Data innovations hold promise for addressing challenges across all aspects of the nutrition data value chain (DVC). The time is opportune to leverage new data sources, methods, and technology due to the increased need for high-quality and real-time data brought about by the COVID-19 pandemic. Recent convenings such as the UN World Data Forum in October 2021 have also featured data innovations as a key theme to showcase the potential of new solutions. Given the limited work around data innovations for nutrition, DataDENT conducted a landscape analysis of trends and opportunities for nutrition data innovations. Read More
There has been a considerable shift toward creating more inclusive data systems over the years. Central to this movement lie efforts to address the power imbalances inherent in data collection and use by thoughtfully engaging and empowering communities. But this is easier said than done. Too often, we (as a sector, but also through the Global Partnership's own work) have been guilty of recommending that organizations "consult with affected communities" without unpacking the practical and ethical implications of such advice. We can and must do better. From conversations about agency in the Data Values Project, we know much of our community is grappling with big questions: How can we ensure communities have a say in and are engaged in what data is collected, for what reasons, and how, when, and by whom it is used? What does genuine inclusion look like? Within these big questions, the details are important. Data producers must engage communities in ways that. Read More.
Sightsavers and the Council of Non-Governmental Development Support Organizations (CONGAD) network brought together over 200 community members and 40 civil society organizations (CSOs) to take action in Senegal. The coalition began a national conversation about what inclusive data means to different communities and why it's a critical building block of fair and equitable policymaking. Their efforts eventually influenced the Government of Senegal to commit to the Inclusive Data Charter (IDC) and spurred the Ministry of Education and Ministry of Health to rethink their data practices. Read More.
National statistical offices have experienced significant changes in recent years, urging them to re-think the way they collect, manage and disseminate data. Information technology (IT) has played a critical role in helping to save time, improve accuracy, and enhance access to their products. Yet, the move from a paper-based to a fully digital system requires thorough preparation. The Ghana Statistical Service embarked on a journey to map its data flows in an effort to accelerate digitalization. Read More.
This report by ARTICLE 19 Eastern Africa, the Kenya ICT Action Network (KICTANet), and Policy reviews the national legal frameworks and practices that have enabled an extraordinary surveillance environment during the first year of the coronavirus pandemic in Kenya and Uganda. It documents and raises awareness about government and private sector surveillance measures and practices in both countries during this period and their human rights implications.  Download Full Report.
We hope the report will be a useful resource for government policymakers and agencies, the private sector, activists, journalists, and human rights organizations in Kenya and Uganda, in their work towards promoting the rights to privacy, data protection, freedom of expression, and access to information.
Events/Webinars
60th Session of the Commission for Social Development – CSocD60 7th-16th FEB
solutions and policies to overcome the COVID-19 pandemic guided by the #SDGs 2nd Feb
Gender Foundations in Health Data Jan 28th-April 20th
Available trainings/tools
SDG & Covid-19 Data Visualization Toolkit
The Gender-Based Analysis Plus Course
Gender Statistics Training Curriculum 
Resource Library for Social Impact Organizations