Welcome to the Africa Open Data Network (AODN) Monthly resource list for July 2021. Every month we put together content including a reading list, avenues for capacity building, and events from different stakeholders across the globe on the use of data and for equal and sustainable development.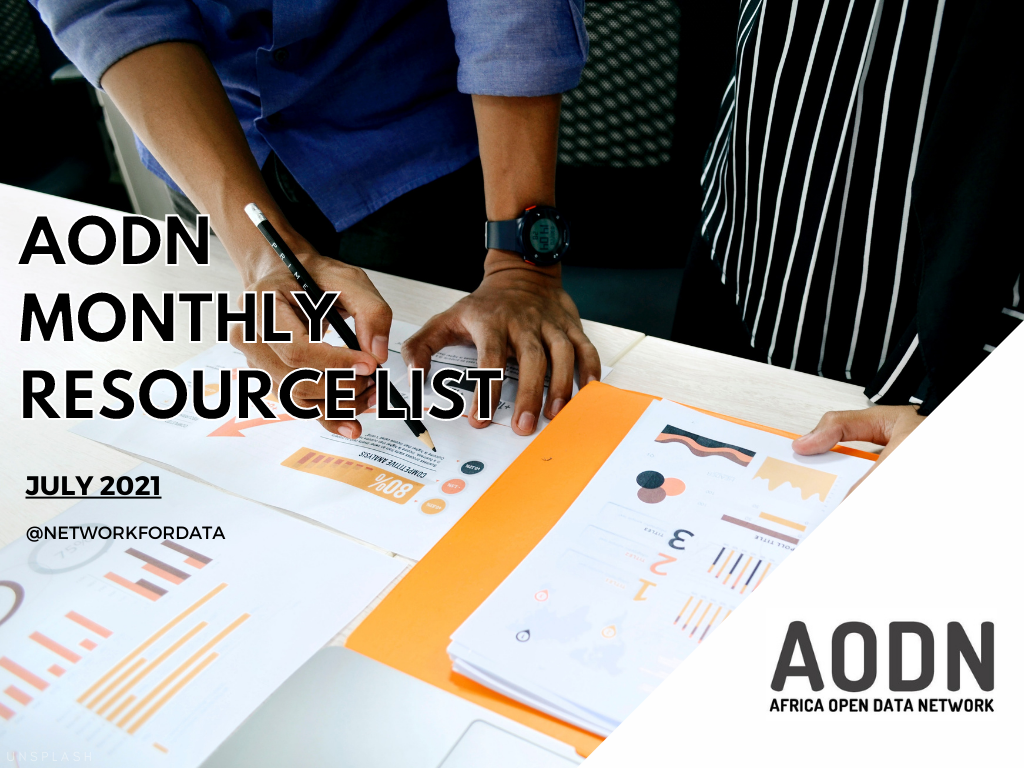 On 11th July 2021, the African continent marked the 5th edition of the African Anti-Corruption Day under the theme, "Regional Economic Communities: Critical Actors in the Implementation of the African Union Convention on Preventing and Combating Corruption".This commemoration of this event was led by the African Union Advisory Board on Corruption. The event's reflections sought to facilitate the identification and dissemination of the challenges, good practices, and the progress made in the Regional Economic Communities in the fight against corruption with a particular focus on the implementation of the African Union Convention on Preventing and Combating Corruption (AUCPCC) that was adopted in Maputo, Mozambique on 11 July 2003 and came into force in 2006.
Reading List
Corporate anonymity poses significant risks to domestic resource mobilization in Africa. Research by the UN Conference on Trade and Development (UNCTAD) suggests that African countries can retain an estimated USD 89 billion per year if the illicit capital flight can be addressed. Accelerating beneficial ownership transparency (BOT) implementation remains fundamental to tackle illicit financial flows and meet global and continental development goals – a priority of the African Union Convention on Preventing and Combating Corruption (AUCPCC). Read more.
Over the last couple of years, we, at the African Open Data Network (AODN), hosted by the Local Development Research Institute (LDRI), have been conducting research to understand how African countries — specifically, Kenya and Ghana, have been developing and implementing OD4AC commitments in their National Action Plans in order to design knowledge tools and provide support in the co-creation of effective OD4AC commitments that can contribute to tremendous reforms in the two countries.
From our research, we have learned that while each country has its own priorities in the fight against corruption, the most common commitments that have been made by both countries include creating open registers of Beneficial Ownership and the development of Open Contracting portals. Read more.
Previous public health outbreaks are often used as examples to explain the consequences of not opening up data, such as delays in treatment discovery, disease management, and increasing pandemic-profiteering. They also inform smart strategies for promoting transparency and accountability. Champions of open data often advocate for the release of information collected by governments in formats accessible to all citizens. This presents multiple benefits including the provision of meaningful evidence on government activities, budgets, resource allocation, and expenditures; enabling more informed decision making, and also helping to deter cases of corruption. Read more.
This blog highlights episodes from the Next African Agenda podcast presented by The Local Development Research Institute and hosted by Leonida Mutuku and Muchiri Nyaggah that discuss emerging insights where open data is at the heart of combating corruption. Among those interviewed are Irungu Houghton, Executive Director of Amnesty International Kenya, Harriet Wachira of Transparency International Kenya, and Jessica Musila, LDRI's Open Government Fellow. Read more.
In recent months, OGP has seen high levels of interest from countries across regions to learn from the experiences of their peers on the issue of beneficial ownership transparency, as this is a newly evolving area when it comes to the implementation of reforms. Reformers are working to require companies to disclose the beneficial owner who ultimately controls or profits from a business, in order to prevent anonymous companies from hiding corruption. Beneficial ownership transparency is a rapidly growing thematic area in OGP action plans – from one country, the United Kingdom, in 2013 to now over 25 countries. These commitments range from establishing registers of companies working in the extractives sector, working towards public and open central registers, and ensuring that data in beneficial ownership registers is verified. Read more.
Improvements in gender data, the basic units of information that are required to measure the impact of these financial commitments on gender equality, are urgently needed, especially in low- and lower-middle-income countries where the COVID-19 pandemic is further entrenching already wide gender disparities. Half or more of the data required to measure impact and to plan recovery in these countries are missing. Without these data, there will be no way to tell if the $40 billion has been well spent. Read more.
This report outlines the ways in which countries are using innovative collaborative models to produce better agri-food systems statistics. People on the front lines of these debates speak to what works—and what doesn't—for developing country-wide strategies to build capacity, share information, and create data ecosystems that meet the needs of policymakers, farmers, families and communities facing food insecurity. Read more.
To address the ongoing need for data-driven decision-making, Open Data Watch has put together some of the most helpful articles, organized by the stages of the data value chain: availability, openness, use, and uptake. Read more.
Webinars
Data Governance In Africa: Pathways for Strengthening Confidence In The Digital Economy – 9th August 2021
Hack-and-Learn summer 2021– 23rd August -9th September 2021 
Africa Evidence Week 2021– 13th -17th September 2021
The Public Sector Data Conference 14-23 September 2021
Un World Data Forum 2021- Bern, Switzerland– 3rd – 6th October 2021: Registration To Attend In-person Is Open
Available Training/tools
This is an interactive tool to support open government reformers who want to advance anticorruption OGP commitments using data in their country.
This tool takes users through a journey that will prepare them to build commitments that are problem-focused, evidence-based, and well-articulated. Each section is designed to help users find the answers to the following questions:
What is my anticorruption policy goal?
How will open data help me advance my goal?
How can I use the OGP platform to achieve my goal?
The estimated duration of the exercise is 20 minutes without considering the additional time that users might devote to exploring external resources that are presented along the way. It can be completed all in one go or in different sittings. By entering an email address at the beginning, all the answers are saved and the session can be resumed later. At the end of the three sections, users will be able to see and download a summary of the journey, for future reference.
View the tool HERE and remember to leave your comments and suggestions on how this tool can be improved.