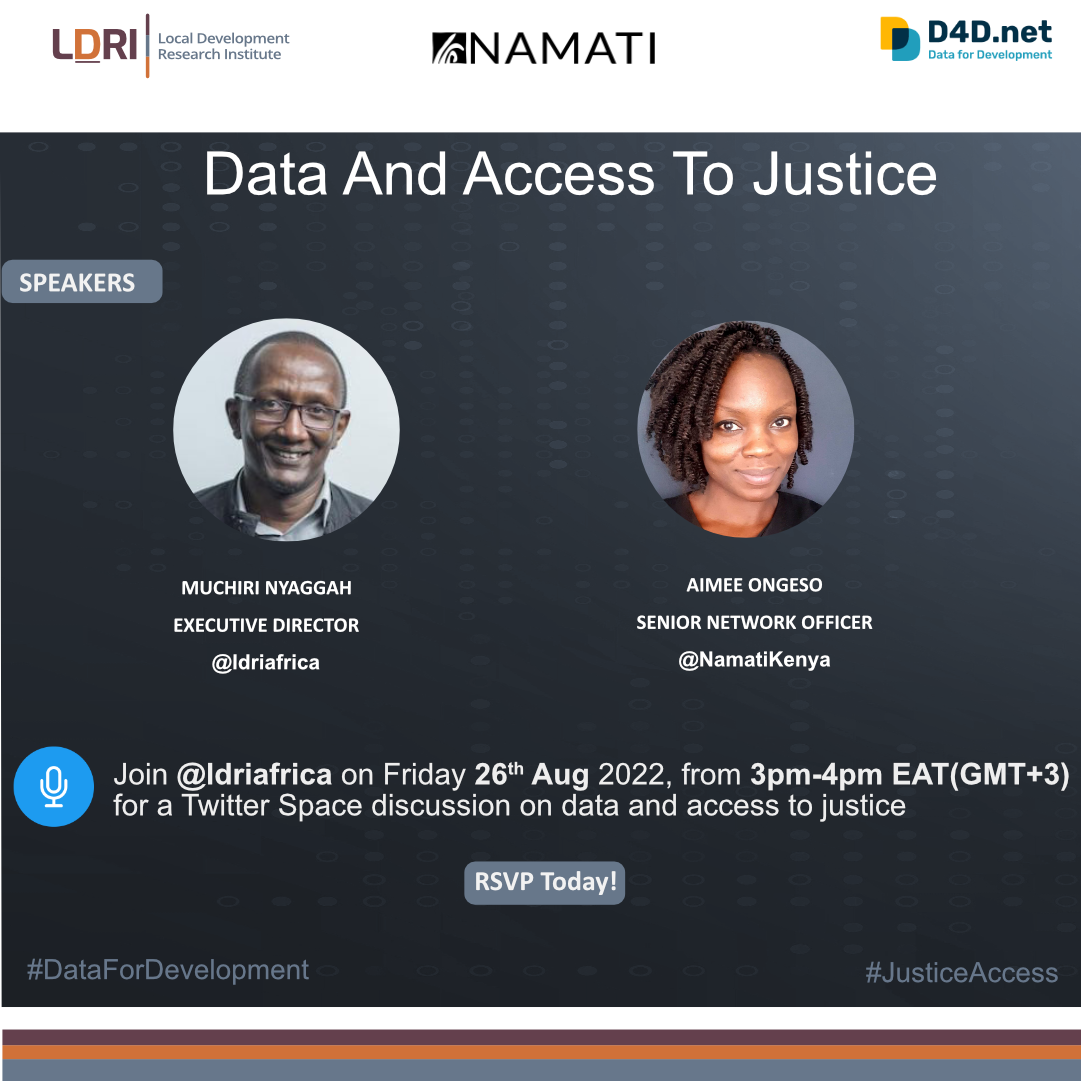 Background Information
LDRI's monthly data chat is held on Twitter and is part of efforts to advocate for and mobilize stakeholders around a common agenda on the publication and use of data and evidence responding to Africa's development agenda. The data chat provides a platform for stakeholders to discuss the way forward for inclusive and sustainable development in the continent; share insights on how data can be used for evidence-informed decision making; create awareness of the benefits of the use of data and new technologies for development and explore how different stakeholders can strengthen capacity to open up and use data to address development challenges
August Data Chat: Data And Access To Justice
Access to justice is important for inclusive development. The Organisation for Economic Cooperation and Development (OECD) maintains that the "inability to resolve legal problems diminishes access to economic opportunity, reinforces the poverty trap, and undermines human potential and inclusive growth." The United Nations has also endorsed the view that justice matters for the global development agenda and its commitment to leave no one behind. The inclusion of target 16.3 in the UN's Sustainable Development Goals (SDGs) commits all member states to "promote the rule of law at the national and international levels, and ensure equal access to justice for all."
But how do we measure "equal access to all" and sustain access to justice solutions while ensuring marginalized and vulnerable groups are not left behind? How can data on crime be used for development beyond generating statistics? How can we shift the focus from the performance of judicial institutions to measuring the outcomes of the pressing legal needs of the people such as having justice delivered in a fair, cost-efficient, timely, and effective manner?
 In our data chat, we will be looking at unpacking some of the above concern areas and ways to expand on the collection and application of Judicial data.
 Objectives
A review of data-driven justice initiatives and Justice Data Infrastructure
To understand the social and ethical implications of open justice
To understand accountability and transparency within the justice systems.
Speakers
Aimee Ongeso
Aimee Ongeso currently works with and supports African-based organizations to put the power of the law into people's hands. For the last  14 years, Aimee has worked to support communities in ensuring their active participation in the design, execution, and implementation of pro-poor policies and legislation. Prior to joining Namati, Aimee managed a variety of legal empowerment projects for the Public International Law & Policy Group and Kituo Cha Sheria based in Nairobi, Kenya.
Muchiri Nyaggah
Muchiri serves as the Executive Director at the Local Development Research Institute. His work explores the implementation of international initiatives, their impact on local development, and how empowering policy actors and citizens with the right data can result in better development outcomes for all.
Playback the event  Here