Welcome to the Africa Open Data Network Monthly resource list for OCTOBER 2021. Every month we put together content including a reading list, avenues for capacity building, and events from different stakeholders across the globe on the use of data for equal and sustainable development.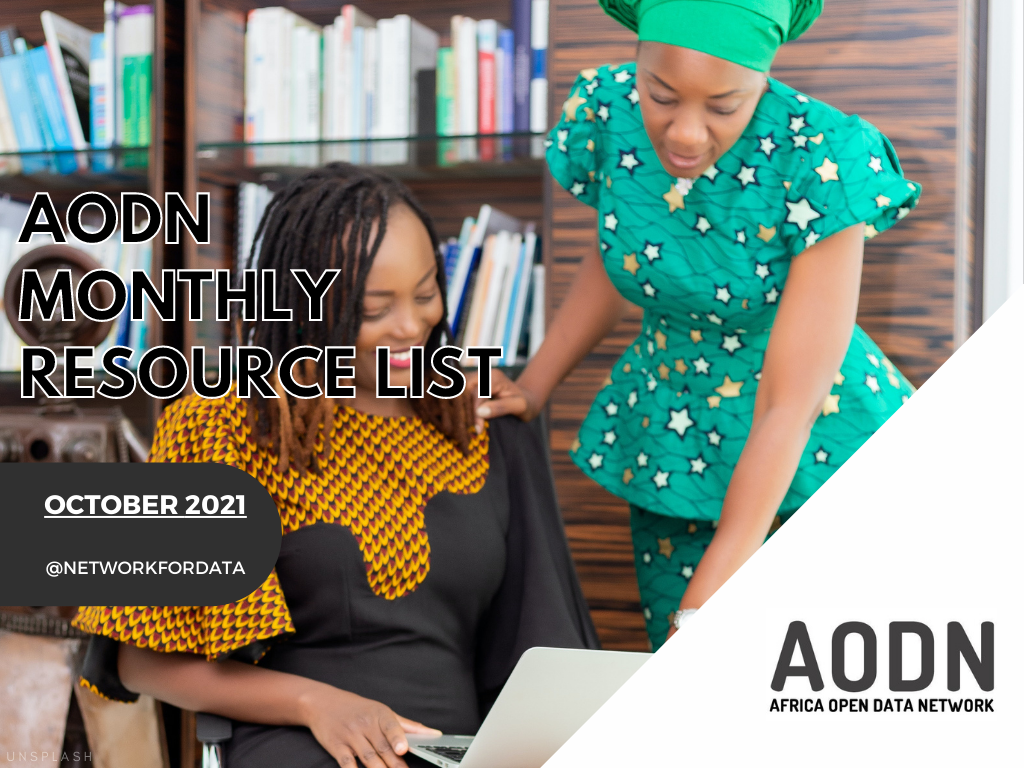 Reading List
Development Initiatives have developed an approach called data landscaping. Its scope covers the political economy of data within a country; the structures and standards that govern the collection, production, and sharing of data; the information systems themselves; and the culture that drives the demand for, and use of data to inform decisions on poverty eradication and ensure no one is left behind. Read more
How many men and women were employed last week? How many hours did they work in their main jobs? And how many hours did they work in unpaid activities such as caring for children? These are seemingly straightforward questions but measuring paid and unpaid work through household surveys is anything but straightforward. This holds true especially for women in developing countries, who are more often engaged in informal activities such as microenterprises or small-scale farming — activities that can fall through the cracks of traditional surveys.
To improve the measurement of women's work and provide guidance on good measurement practices, the International Labour Organization (ILO) and the World Bank collaborated with the Sri Lanka Department of Census and Statistics (DCS) between 2017 and 2019 on a multi-stage pilot study. The study compared the outcomes of two types of household surveys: the labor force survey (LFS) and a multi-topic living standards survey (MLSS). Read more
The Sustainable Development Goals (SDGs) present an unprecedented monitoring challenge for governments and National Statistical Offices (NSOs). As a result of increasing demands for data from users, declining budgets, and rising data-collection costs, interest has grown in harnessing data from new partners in the national "data ecosystem." The potential for "big data" to support SDG monitoring has incited considerable enthusiasm with many emerging experiences and use cases which underscore the need for increased collaboration and partnership. Read more.
Bias exists in current data collection practices, leaving women and girls invisible in the data. Deliberate effort is needed to overcome the problems of traditional methods of data collection. In a feminist data collection system, averages would be deconstructed through appropriate disaggregation, and intersectional analysis would be made possible. And the use of untapped data sources would be expanded while mitigating their challenges. Deliberate effort is required to ensure women and girls are counted. We need to rethink all aspects of data collection to ensure increased inclusiveness. Read more.
Data collected for one purpose have the potential to generate economic and social value in applications far beyond those originally anticipated. But many barriers stand in the way, ranging from misaligned incentives and incompatible data systems to a fundamental lack of trust. World Development Report 2021: Data for Better Lives explores the tremendous potential of the changing data landscape to improve the lives of poor people, while also acknowledging its potential to open back doors that can harm individuals, businesses, and societies. To address this tension between the helpful and harmful potential of data, this Report calls for a new social contract that enables the use and reuse of data to create economic and social value, ensures equitable access to that value, and fosters trust that data will not be misused in harmful ways. Read more.
Many low-income countries are limited by gaping holes in agricultural and rural data that could inform planning, budgeting, and policymaking in this vital sector. The scarcity of high-quality, timely agricultural data is directly complicating countries' plans for economic growth and efforts to reduce poverty. Read more.
An overview assessment of the food security outlook in AGRA focuses on countries in East, West, and Southern Africa, taking into account the movement of prices of main food staples and government interventions that impact domestic and regional food trade alongside the impact of forecast weather changes and environmental conditions on food security. The monthly Food Security Monitor is one way that AGRA makes data available to key stakeholders to underpin evidence-based decision-making. Read more.
For almost 25 years, extreme poverty was steadily declining. Now, for the first time in a generation, the quest to end poverty has suffered its worst setback. This setback is largely due to major challenges — COVID 19, conflict, and climate change — facing all countries, but in particular those with large poor populations. The increase in extreme poverty from 2019 to 2020 is projected to be larger than any time since the World Bank started tracking poverty globally in a consistent manner. While COVID-19 is a new obstacle, conflicts and climate change have been increasing extreme poverty for years in parts of the world. Explore The Data.
The World Statistics Pocketbook 2021 edition (Series V, No. 45) is the forty-fifth in a series of annual compilations of key statistical indicators prepared by the United Nations Statistics Division of the Department of Economic and Social Affairs. Up to 50 indicators from more than 20 international statistical sources are presented in one-page profiles for 30 world geographical regions and over 200 countries or areas of the world.
The Pocketbook profiles are organized into 5 sections; general information, economic indicators, major trading partners, social indicators, and environmental and infrastructure indicators. This issue presents data for the economic, social, environmental, and infrastructure sections generally for three reference years ‐ 2010, 2015, and 2021. Read more
In 2021, the Independent Reporting Mechanism (IRM) published the Action Plan Review for Kenya's fourth action plan. The report provides a technical review of the action plan's characteristics and the strengths and challenges the IRM identifies to inform a stronger implementation process. The copy is available in English here.
Webinars /Events
Available Training/tools