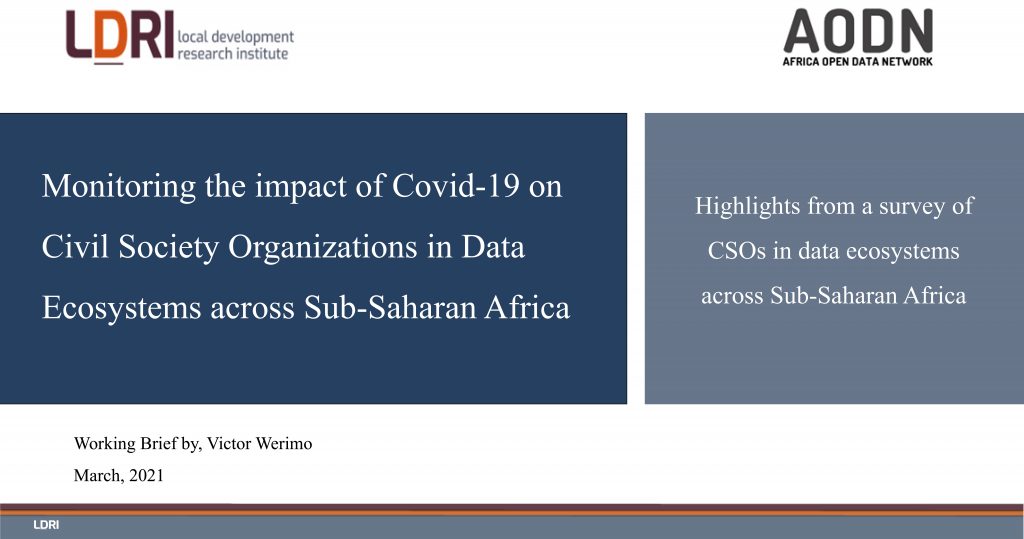 The Covid-19 pandemic has and continues to impact different sectors and data ecosystems around the world differently. Civil society organizations (CSOs) are important players in data ecosystems collecting, publishing, analyzing, sharing, and consuming data; as well as supporting different actors in the data ecosystem through advocacy, policy dialogues, among other data initiatives. To be successful, these initiatives require consistent human and financial resources and continuous stakeholder engagement structured predominantly as one-on-one interactions. As such, CSOs in data ecosystems are among some of the affected institutions due to the effects of the pandemic and measures to contain it.
To understand the impact of the pandemic on CSOs in data ecosystems across Sub-Saharan Africa, LDRI set out to establish and better understand the disruptions in the activities of CSOs in the data ecosystem, ways in which CSOs are adjusting to the new changes in the data ecosystem, opportunities that have emerged and finally to provide recommendations on how different stakeholders can adapt to the new realities during this period to play their respective roles within data ecosystems across Sub-Saharan Africa. We reached out to CSOs in data ecosystems across Sub-Saharan Africa and requested them to share their experiences, through a survey, which are captured in this working brief.
The brief captures findings from a small sample of CSOs, and should therefore not be understood as being representative of experiences of all CSOs in data ecosystems across Sub-Saharan Africa. We however believe that it provides a solid basis for understanding the current context and for future research by different stakeholders on structures and funding priorities for data for development initiatives in Sub-Saharan Africa.