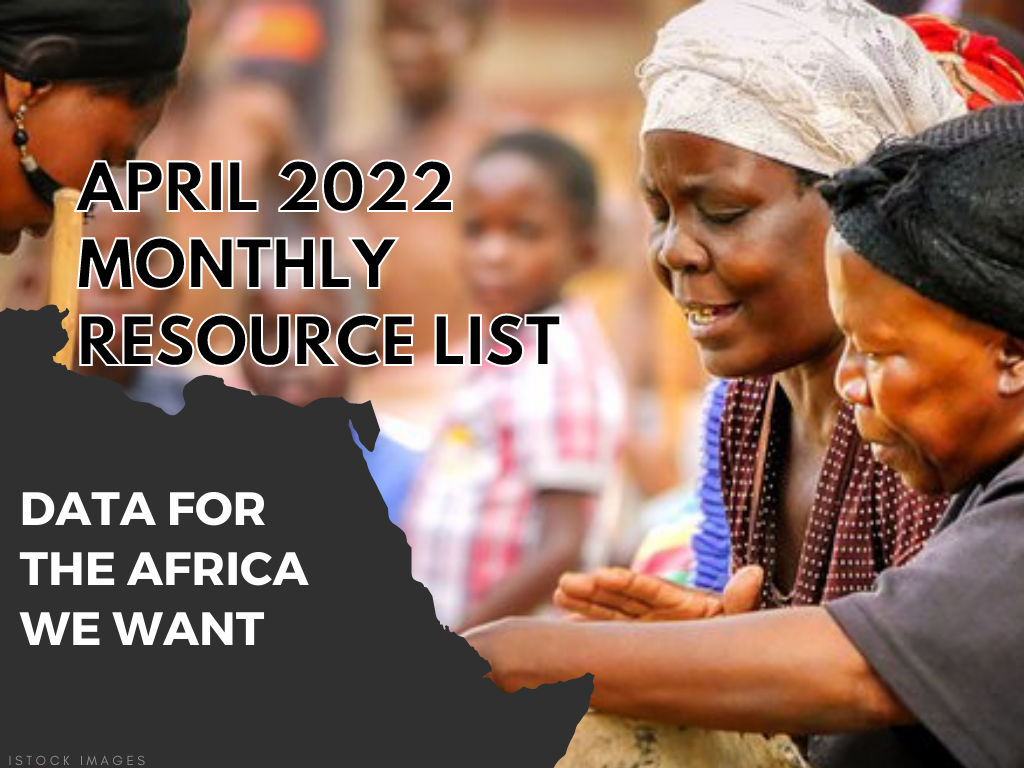 The monthly resource list for April 2022 puts together content including a reading list, avenues for capacity building, and events from different stakeholders across the globe on the use of open data for better service delivery in sectors such as Agriculture, Education, and Health. 
What We Are Reading This Month 
Solutions to Close Gender Data Gaps shifts the conversation from identifying gender data problems to finding practical solutions to gender data gaps. This report and the accompanying Gender Data Solutions Inventory document innovative solutions that have emerged in the last five years. The inventory catalogs 142 solutions that are practical and, in many instances, scalable across six development sectors(economic opportunity, education, environment, health, human security and public participation). It also includes cross-domain solutions focused on improving the governance of statistical systems and encouraging the use of data and statistics by policymakers and the public. Read The Report
Despite the importance of data and statistics for monitoring the Sustainable Development Goals (SDGs) as well as for policy making, data and statistical systems have long been underfunded, while  costs and demands have risen. Current donor commitments and support for data and
statistics are a fraction of actual needs. The financing landscape has also become more diffuse, fragmented and complex. In response, three new, global instruments—the Global Data Facility (GDF), the Bern Network Clearinghouse for Financing Development Data, and the Complex Risk Analytics Fund (CRAF'd)—were launched in 2021 to strengthen coordination and mobilize finance for data and statistics. It is critical that these initiatives benefit from broad participation and are adequately resourced. Download the report
In the past 30 years, the number of organizations seeking to impact how data is governed and managed has grown tremendously. To explore this paradigm shift the Data-sphere Initiative embarked on an incredible learning journey to understand how different actors are influencing data governance, and to take a first step to map the Data-sphere – the complex system encompassing all types of data and their dynamic interactions with human groups and norms itself. Read more.
The past decade of work on the Sustainable Development Goals (SDGs) has shown that increased access to and availability of data does not automatically lead to improved data use or better policy outcomes. While more and better data is a precondition for more effective policy making and service delivery, the relationship between data availability and data use is not linear. Read more.
 A recent assessment highlights that existing EO systems could generate data for 33 Sustainable Development Goals (SDGs) indicators across 14 goals. Consequently, governments are increasingly using this data for evidence-based decision-making on sustainable development challenges. Yet, countries in the Global South, particularly in Africa, continue to face challenges with harnessing the breadth and complexity of EO data for decision-making on sustainable development issues. TReNDS' latest research paper explores the bottlenecks to use and the types of partnerships that may prove beneficial to overcoming these challenges. Read More
Recent international initiatives 1 show an increasing concern with gender data gaps, and—thanks in large part to decades of feminist advocacy—a growing awareness of the significant harm that can be caused by research that excludes women, girls, and other marginalized communities' experiences. 2 These gaps have become especially evident in the wake of the COVID-19 pandemic. 3 While this momentum to address global gender data gaps is highly welcomed, today's data ecosystem remains largely built around a false "build it, and they will come" assumption 4—with greater investments being made in data collection and publication, rather than gender data uptake and impact. Indeed, a recent study by Data2X indicates that organizations involved in increasing the uptake and impact of available data make up the smallest share of stakeholders in the global gender data industry. Download here
Events.
Global Index On Responsible AI: Regional Consultation April 28th
Managing Data For The  Public Good- A Clubhouse Event. May 3rd
Food Safety In Africa: Sustainable Solutions And Strategies April 27th 
Transforming Public Service April27th-28th
The  Official Launch Of The Global Data Barometer Launch May 11th
ICYMI
Thinking Outside The Box: Solutions To Produce Better Gender Data
Training/Tools
Introduction to Data Ethics and the Data Ethics Canvas
Open Data In A Day-Online Course
Gain a Deeper Understanding of Spatial Data Analysis.
Measuring Women's Economic Empowerment
SDG Global Database with more than 210 SDG indicators for countries across the globe