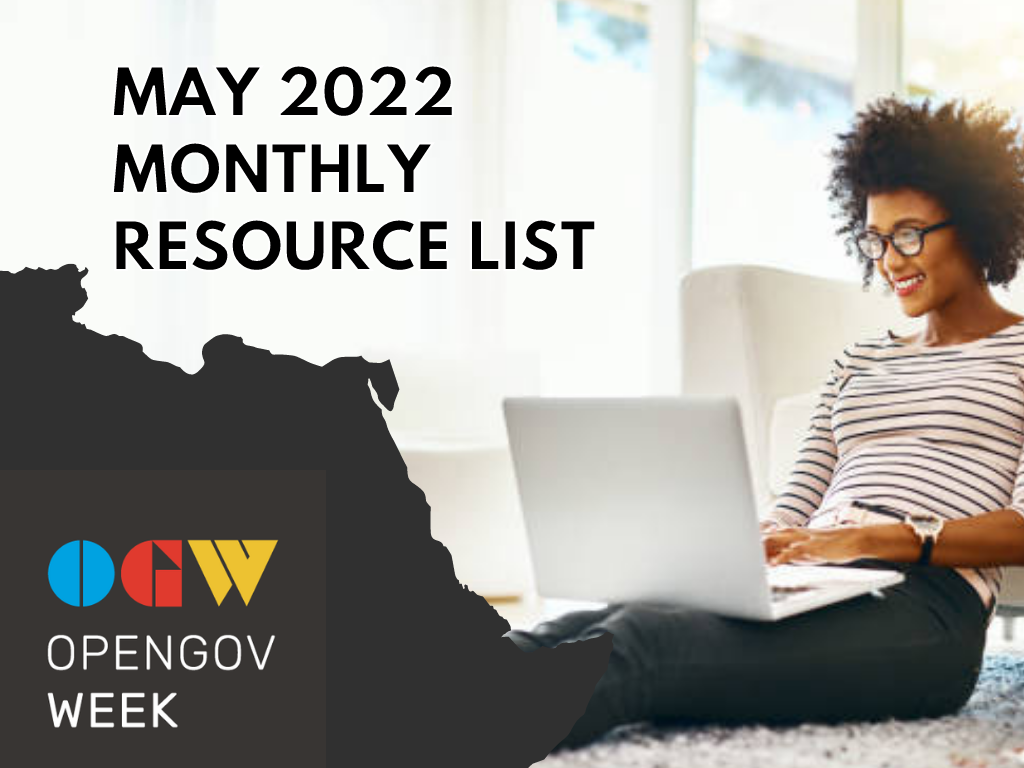 The monthly resource list for May 2022 puts together content including a reading list, avenues for capacity building, and events from different stakeholders across the globe on the use of open data for better service delivery in sectors such as Agriculture, Gender, and Governance. 
What We Are Reading This Month 
A data desk provides a framework where data personnel can collect, clean, upload, and continuously update data to any online platform and all its components. We envision this system providing an open platform to allow for easy and seamless data management for the county. At the same time, the data desk must also provide access to data for different stakeholders: the public, including citizens and the media, county departments, the private sector, and others, to promote transparency and accountability of the county government to the people they serve. Read More
This report provides an overview of the Global Data Barometer findings. The Barometer includes 39 primary indicators, and over 500 sub-questions, covering 109 countries (delivering more than 60,000 data points in total). In this report, we select just a few of these to explore, providing a non-exhaustive overview of some of the topics that could be explored further using Barometer data. The full methodology, and details of how to access and work further with Barometer data, are contained in Appendices Download the report. Including  A hands-on guide to navigating the report.
As the COVID-19 response shows, the use of gender data in policy and decision-making is extremely challenging. This report was informed by interviews with more than ten national statisticians working actively on the curation of gender statistics. Interviewees stressed that gender data use across their governments was generally poor, both due to low political prioritization of gender and because of limited capacity at national and local levels. Local administrators and statisticians often don't know how to collect or interpret gender data and convey it to the national government in their reports, meaning these issues are less likely to receive funding in a vicious cycle of under-attention. Persistent underfunding of gender data production, communications, and use as a core concern noted by every informant. Read more.
Research and data can influence crucial decisions in development projects. To strive for Agenda 2030's aspiration to leave no one behind, development institutions need to know who is actually being left behind and, perhaps most importantly, how. The Foundation's latest event "Who is counted is who counts: Intersectionality and data" addressed inclusion at the level of data collection, processing, and analysis. Read More.
Seven years after the adoption of the 2030 Agenda for Sustainable Development, many countries still rely on out-of-date and incomplete data to inform its implementation. Millions of people globally are not covered by existing data sources and are therefore excluded from decision-making and policies. In this context, there is an increased sense of the urgency to use innovative approaches to better meet the data needs to accelerate action towards achieving the Sustainable Development Goals (SDGs) and build agile and resilient data and statistical systems. Download the pdf.
National statistical offices are facing an unprecedented demand for real-time information on people and their needs, not only from policymakers but also from citizens trying to make their voices heard, who sit outside the traditional notion of the 'data community.' However, the most vulnerable people remain the most likely to be missing from national statistics, and global datasets remain unfit for targeted responses at the local level. Read More
Performance indexes, maturity models, and other assessment tools provide an analytical framework for evaluating the capacity of government data systems. In this stocktaking report, commissioned for the Data for Development Global Research Hub (D4D.net) with the support of the International Development Research Centre (IDRC), Open Data Watch (ODW) maps twelve widely used performance indexes and assessment tools to the pillars of the Global Data Barometer (GBD) and the stages of Data Value Chain (DVC) to identify similarities and differences in concept and coverage. Read More.
Solutions In Scarcity: Smart Financing in Gender-Data June 2nd, 2022
Open Government Events.
Open Data For Anti-Corruption May 20th, 2022
Bringing Open Government To Life May 20th, 2022.
Advancing Primary Health In Africa. May 20th, 2022.